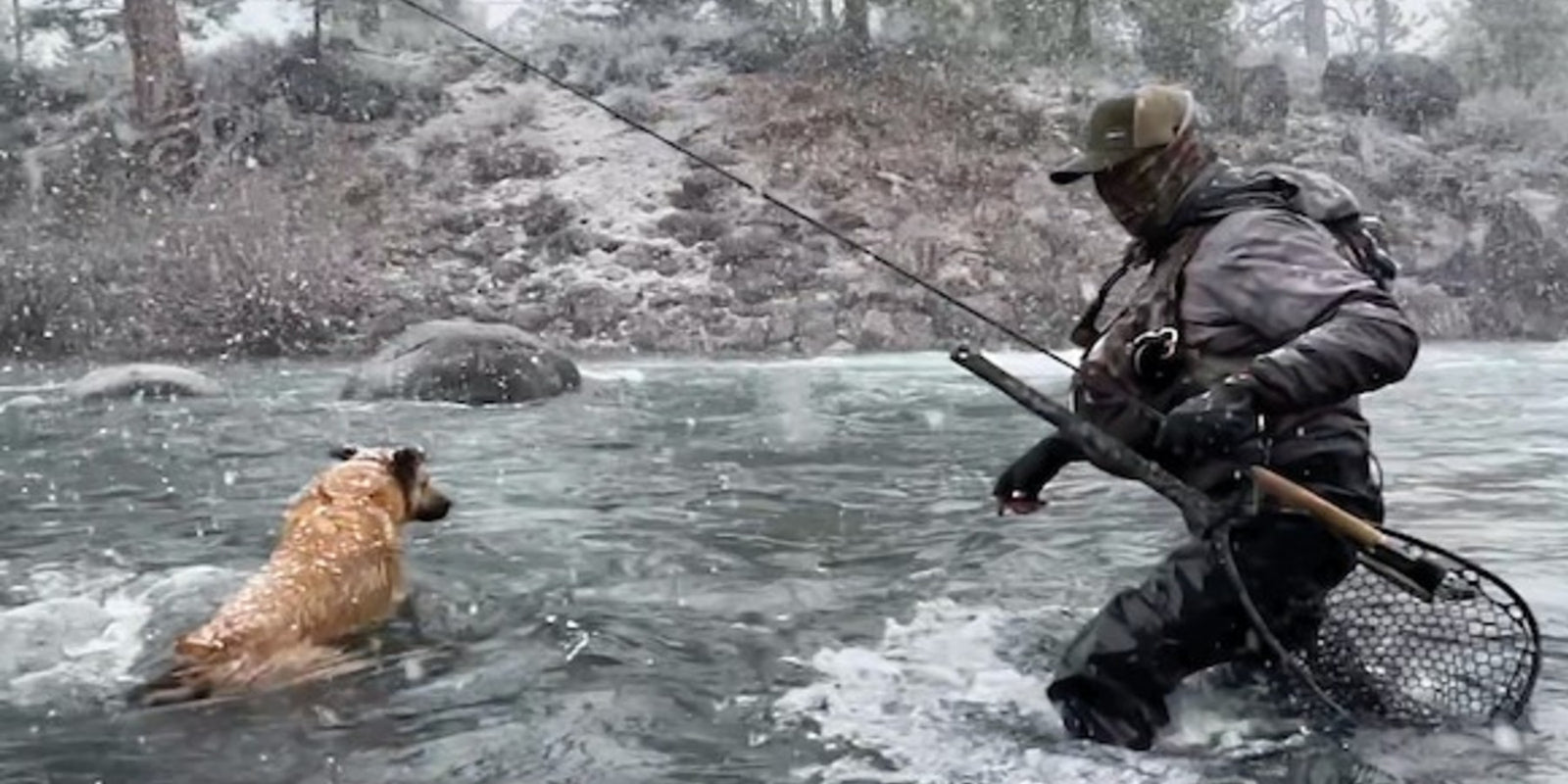 JEFF SASAKI AND HIS FOUR-LEGGED PAL, WINSTON THE AMAZING K9, BRAVE THE SNOW TO GET IN SOME CASTS ON THE TRUCKEE RIVER, PHOTO COURTESY MAVRK
EMBRACING INNOVATION
The Stinger represents something of a rebirth for Sasaki, who, after a career spent designing protective gear for cycling and other action sports, moved with his wife from San Diego to their second home in Truckee in 2016 (he also started and sold a company that manufactured iPhone cases from exotic materials). Once settled in, he didn't want to do anything but "ride and fish" for a couple of years.

After 400 days of fishing, spread out over those two years, Sasaki realized that the only thing he truly wanted to do, work-wise, was improve every piece of fly-fishing gear he owned.

He started with the reel, aiming to create a device that improved his rod's efficiency and allowed him to "fish longer and catch more" without adding to the shoulder and back strain common to the sport. Starting with a 3D-printed prototype, he took the design through 100 iterations, tweaking it so it would securely hold the line in place but also allow for the line's fast and easy removal.
Instead of a reel winding the line into coils, the angler keeps the excess line either wound up on the Stinger or floating free, so the current can manage it. On the river, Sasaki demonstrates the Stinger in action, feeding line through his left hand in fluid motions that call to mind milking a cow or stripping corncobs of their silk. The slack forms a wobbly U that slowly unfurls in the water next to his thigh.

The main benefit to this design is the rig's reduced weight. The Stinger Comp weighs 1.4 ounces, as opposed to a 5- to 7-ounce reel, which Sasaki says improves casting accuracy, reduces arm fatigue and makes the gear more portable.

The fatigue angle, which may sound negligible, is no joke. Sasaki's preferred fly-fishing technique involves casting upstream, then holding the rod up and out over the water, keeping the tip just ahead of the fly traveling below the surface. It takes about 10 seconds at most for it to pass him to the point where he's turned 180 degrees, prompting a fresh cast and another slow turn. Repeat. Then repeat again. Seconds add up into minutes, which stack into hours. Taking even 4 ounces off that rod can be a literal weight off a dedicated angler's shoulders.

In June 2020, just two weeks before Trout Creek Outfitters opened its doors, Sasaki launched a Kickstarter effort that successfully crowdfunded more than $10,000. Stingers went out to backers in August of that year, and he's since focused on developing the brand, messaging and marketing for his business, MAVRK.
End Part 2
Embracing Innovation
Euro-Influence


Part 3 Coming Soon
Stewards of Trout Habitat
A Sport That's Here to Stay