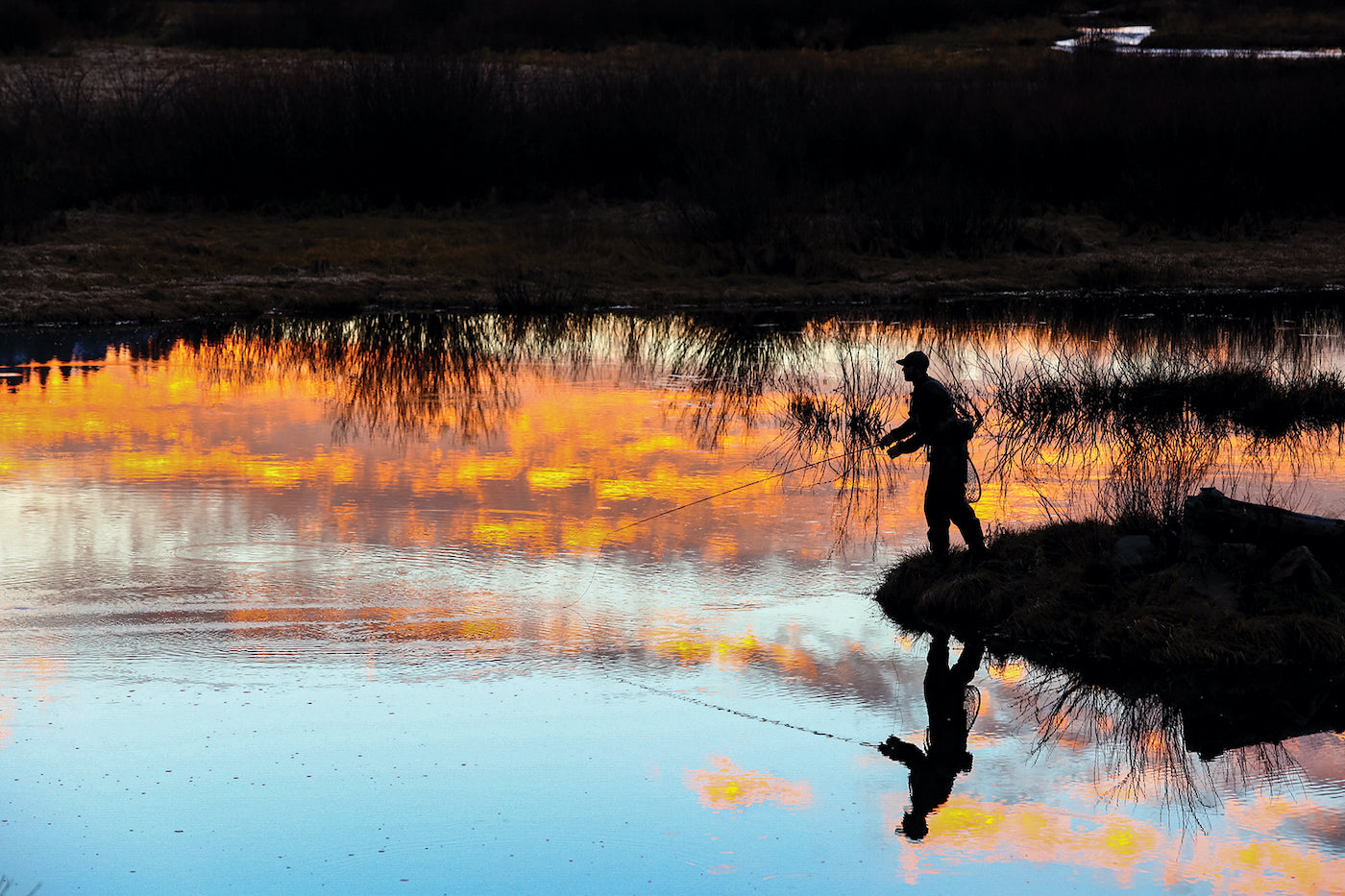 SUNSET FLY-FISHING ON THE LITTLE TRUCKEE RIVER DURING A MAYFLY HATCH, PHOTO BY JASON SHIELDS, COURTESY TROUT CREEK OUTFITTERS
A PANDEMIC-DRIVEN SURGE IN FLY-FISHING HAS CREATED OPPORTUNITY IN THE TAHOE AREA, WHERE AN INCREASE IN ANGLERS INDICATES GROWING INTEREST IN THE SPORT—AS WELL AS MORE PRESSURE ON LOCAL WATERS
The rod moves like a windshield wiper on a drizzly day, tracing wide arcs over the Truckee River as Jeff Sasaki points the tip upstream toward Lake Tahoe, then downstream toward Lake Pyramid, then back again. The physics at play in getting his fly between two pale boulders where a rainbow trout may be hiding—involving potential and kinetic energy, air resistance, surface tension, turbulent versus laminar flow and who knows how many more textbook terms—may be nearly as complex as the rights governing the highly contested water that runs through California and into agricultural fields and kitchen sinks in Nevada.

The fish, however, care nothing about politics or treaties or the obligations of Lake Tahoe's water master. Pioneers and partisan bickering in congress? Dams and diversions? The myriad machinations that have routed and roiled the river for more than 150 years and seek to shape its future course? None of that occupies the rainbow trout, which itself is the beneficiary of stocking efforts that introduced non-native salmonids to local waters depleted of their natural cutthroats. Various historical acts and policies may have benefited or harmed their collective numbers, but to a single fish, just about the only things that matter are spawning and—more frequent and pressing—finding that next meal.

In mid-spring, lunch for a speckled and shimmering Oncorhynchus mykiss could be any of a number of aerial and aquatic creatures: an algae-fed mayfly, perhaps, fluttering under wings like leaded glass panels, or a stonefly larva, all segmented, symmetrical and scuttling, like something out of a 1950s science-fiction matinee.
Sasaki hopes that at least one hungry trout will go instead for an artificial but appetizing substitute, an assemblage of beads, fibers and feathers fashioned to resemble something tasty and alive.

"Your flies are like your puppets," he says, "and you're the puppeteer."

Hence the careful casting, ticking his rod back and forth like a metronome marking the time until he flicks his wrist and sends the faux fly into the precious liquid decanted by Lake Tahoe from the Sierra Nevada snowpack.

He has two targets to consider in the moment: where the fly enters the water and the zone where the fly will pass, where he thinks the fish are lurking. He likens nailing the timing to simultaneously patting your head and rubbing your stomach. It's difficult to coordinate the disparate actions at first, but once you get it, you get it.

Hopefully—if his mental calculations, intuition, muscle memory and situational adjustments synch up as intended—the fly will sink to an ideal depth, wiggling in the most alluring way as to catch the discerning elliptical eye of the theoretical trout.
Beyond the moment, however, the product designer has a larger goal: to propel the sport of fly-fishing forward by making gear that is lighter and well-suited for longstanding European techniques that are beginning to catch on in the United States. Sasaki developed a device, dubbed the "Stinger," that replaces the reel on a rod, shaving ounces off the total rig to make it that much easier to hold up and out for hours.
A PANDEMIC-FUELED POPULARITY BOOM
This is the time for such endeavors. The California Department of Fish and Wildlife sold more than 1.1 million annual sport fishing licenses to state residents in 2020—184,501 more than the year prior and a high for the last decade, which saw licenses dipping into the 900,000s for several years. The total annual licenses sold so far for 2021 (as of May 31) was 843,508.

By all accounts, the pandemic is to thank for the jump. Telling people to stay away from businesses and public areas—from other people, as a whole—makes for a good excuse to get out into nature, where social distancing is pretty much a given.

On a local level, anglers in the Tahoe area anecdotally confirmed increased interest in the sport, with some saying fly-fishing recently saw its biggest bump since a 27-year-old Brad Pitt grinned his way across rural Montana and onto the A-list in 1992's A River Runs Through It.


"As we saw last summer, the pandemic spurred many people to escape the contagion by heading to rural areas like Truckee and Tahoe, which in turn spurred an explosion of interest in outdoor activities, including fly-fishing," says Richard Anderson, former Truckee mayor and founder of the almost 30-year-old California Fly Fisher magazine. "This was, of course, a welcome boost for an economy that was otherwise suffering from the restrictions needed to control the pandemic, but our local fisheries were at times overwhelmed with anglers, as well as trashed—literally."
James Donahue, a 37-year-old Truckee real estate agent who enjoys fly-fishing two to three times a week, agrees.

"It kinda got busy the moment quarantine went into effect," he says. "It's been amazingly crowded. It just boggles the mind."

Donahue wryly admits that his definition of "amazingly crowded" may skew a bit isolationist: "If you see somebody, that's crowded for me." Fortunately, there's a lot of space along the Truckee River's 120 miles, so when he spots another angler, he simply walks until he's alone again.

"We're not here to hang out with our fellow man," says Donahue. "We do that in other places."

One such place is Tahoe Fly Fishing Outfitters in South Lake Tahoe. Victor Babbitt's shop has geared up anglers, offered patient instruction to newbies and led guided trips to "five watersheds within a three-hour circle"—the Truckee, Carson, Walker and, on rare occasions, American and Yuba rivers—since the mid-1990s.

"We got slammed last year. Once we opened back up [after pandemic closures], we did our biggest year ever," Babbitt says. "Our equipment and retail increased almost twofold."

The momentum has carried into this year, with spring's sales more closely resembling the sorts of numbers Babbitt typically sees in the summer, when more people are out angling.
"We're anticipating that it's going to be, once again, over the top," he says, though he notes that he won't be around much longer to see it happen in person. Babbitt has sold his shop and is moving to Montana this summer in celebration of entering his 60s—and, presumably, fly-fishing worthy of Robert Redford's cinematic vision.

Another, newer space to congregate apart from the river is Trout Creek Outfitters, a fly-fishing shop that opened in downtown Truckee on Father's Day 2020 and quickly became a go-to resource for area anglers. One of the shop founders, Miles Zimmerman, moved from the Bay Area to Truckee "for the powder" in 2007, but picked up a rod and learned how to wield it about two years later.

"I don't really ski anymore," Zimmerman says. "All I do is fish."

He worked for six years at Truckee's Ace Mountain Hardware & Sports, the last two of which he served as head of the fishing department. But after numerous conversations with anglers who wondered why Truckee didn't have a dedicated fly-fishing shop, he decided to open his own. He partnered with Scotty Koper, who worked at the hardware store in the summers, and Scott Ferguson.

Zimmerman is quick to compliment Mountain Hardware & Sports, noting their good selection and knowledgeable staff
"But … eventually you need to have a true-deal standalone fish shop in a [mountain] town," he says.

Economic challenges created by the pandemic proved to work in the fledgling shop owners' favor, opening a space they might not have been able to occupy or afford under different circumstances. COVID has also lured more people outside, Zimmerman adds, echoing his fellow anglers' observations.

"People have all this newfound time on their hands," he says. "They want to get outdoors and, you know, do something new. … It's been a very popular hobby [and] a great time to open the business. It's been very successful thus far, which has been amazing. I'm living a dream."

That dream also includes the fact that Zimmerman submitted a fly pattern to one of the top fly manufacturers in the country—fly-tying is a whole subset of the sport that could fill an article of its own—and recently learned that they would like to include his design in their spring 2022 lineup.

Zimmerman's shop itself is both cozy and open, featuring a whiteboard detailing river conditions, current bugs populating the waters and other info in orange dry-erase ink. A stack of Anderson's California Fly Fisher sits near the register, and wide trays packed with hundreds of Muppet-like minnows, rubbery leeches, elk-hair caddis flies and abstract "flashabou buggers" sit under ceilings high enough to accommodate the towering rods that stand against the wall, their straight lines like the inside of a grand piano.

Between the rods and a rack of hanging waders stands a display of traditional reels and a single Stinger, Jeff Sasaki's modern reel replacement. This is the high-end model made of machined aluminum, but there's also an everyday injection-molded version that costs about a third as much.
EMBRACING INNOVATION
The Stinger represents something of a rebirth for Sasaki, who, after a career spent designing protective gear for cycling and other action sports, moved with his wife from San Diego to their second home in Truckee in 2016 (he also started and sold a company that manufactured iPhone cases from exotic materials). Once settled in,
he didn't want to do anything but "ride and fish" for a couple of years.

After 400 days of fishing, spread out over those two years, Sasaki realized that the only thing he truly wanted to do, work-wise, was improve every piece of fly-fishing gear he owned.

He started with the reel, aiming to create a device that improved his rod's efficiency and allowed him to "fish longer and catch more" without adding to the shoulder and back strain common to the sport. Starting with a 3D-printed prototype, he took the design through 100 iterations, tweaking it so it would securely hold the line in place but also allow for the line's fast and easy removal.
Instead of a reel winding the line into coils, the angler keeps the excess line either wound up on the Stinger or floating free, so the current can manage it. On the river, Sasaki demonstrates the Stinger in action, feeding line through his left hand in fluid motions that call to mind milking a cow or stripping corncobs of their silk. The slack forms a wobbly U that slowly unfurls in the water next to his thigh.

The main benefit to this design is the rig's reduced weight. The Stinger Comp weighs 1.4 ounces, as opposed to a 5- to 7-ounce reel, which Sasaki says improves casting accuracy, reduces arm fatigue and makes the gear more portable.

The fatigue angle, which may sound negligible, is no joke. Sasaki's preferred fly-fishing technique involves casting upstream, then holding the rod up and out over the water, keeping the tip just ahead of the fly traveling below the surface. It takes about 10 seconds at most for it to pass him to the point where he's turned 180 degrees, prompting a fresh cast and another slow turn. Repeat. Then repeat again. Seconds add up into minutes, which stack into hours. Taking even 4 ounces off that rod can be a literal weight off a dedicated angler's shoulders.

In June 2020, just two weeks before Trout Creek Outfitters opened its doors, Sasaki launched a Kickstarter effort that successfully crowdfunded more than $10,000. Stingers went out to backers in August of that year, and he's since focused on developing the brand, messaging and marketing for his business, MAVRK.